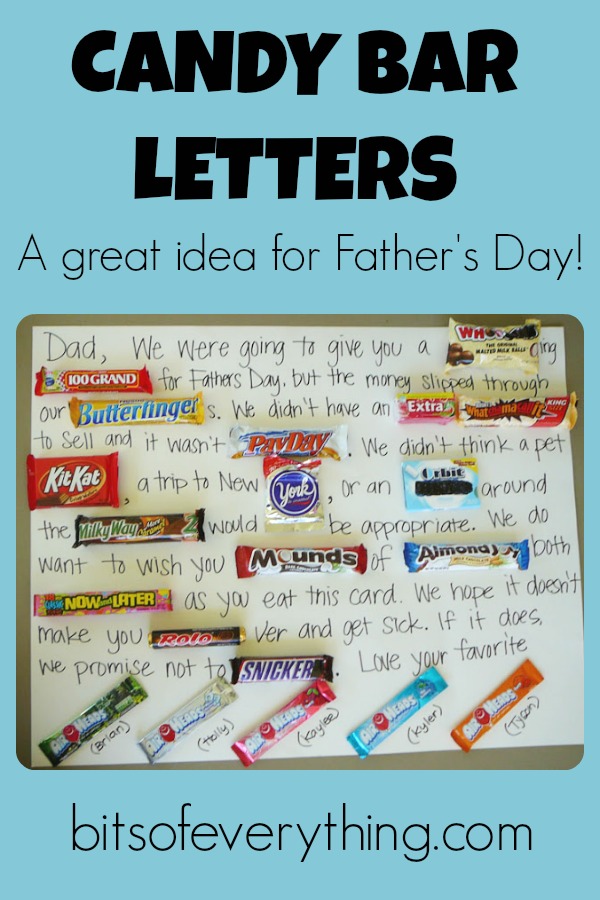 One of our most popular posts right now is the Candy Bar Letter that I made for Father's Day a few years ago.  There have been a few questions about it, so I thought I would show you my step by step process and share with you my candy bar letter tips.
1.  Size.  How long do you want your letter?  How many treats do you want to buy?  I usually use a regular poster board (22 inches by 28 inches).  If you wanted to do a shorter letter, I would cut a poster board in half, making it 14 inches by 22 inches.  I even think a little candy bar note is cute, using a quarter of a poster board (11 inches by 14 inches).  If you don't have poster board on hand, you can always use card stock.  Tape 2 pieces together to make it a little bigger, if needed.  Check out this post that Emily did that is a good example of this.
2.  Rough Draft.  I usually jot down a few notes of what I want my letter to say.  From that rough draft you can then make your shopping list.
3.  Spacing.  I lay out my candy bars and treats on the poster board, guessing where they would fit, making sure I have enough room for everything.  If there isn't enough room or too much room, adjust accordingly.  If you don't have enough room, you can eliminate your least favorite sentence (You now have a treat for yourself!  Yay!)  or write your words smaller and fit the candy in tighter.  If you have extra room, write your words bigger and leave more space in-between sentences.
4.  Write the words.  I usually just wing it, writing everything with a sharpie, leaving spaces big enough for each treat.  My daughter just made a candy bar letter for Fathers Day and I had her write it in pencil first, just in case we wanted to adjust things before we added the sharpie.  This was a great idea for her.
5.  Attach candy bars and treats.  I'm sure there are several ways you could attach your treats.  I always use scotch tape or masking tape.  Some treats are heavier than others, so some might require more tape than others.  I use tape pieces about 1.5 inches long and roll them into a circle.  My daughter tried to use bigger rolls and her candy fell off the poster a lot more easily.  Now, if you are going to hang the poster up or put it on a door, you may need to look into stronger adhesives.
Here are a few ideas to spruce it up:
Use colored poster board.
Use stickers or markers to decorate the edges.
If it's from kids, have them each sign their own names.
If you need it to be smaller or want to mail it, write the letter with blanks that are numbered.  Number your treats to match up with the appropriate blank.  Check out this good idea.
If you don't like your handwriting, check out this option.
Candy bar letters are perfect for any occasion.  Fathers Day, Mothers Day, Birthdays, Teacher Appreciation, Thank You, Good Luck, Get Well Soon, Holidays, etc…  
Here are a few more candy bar letter ideas for you:
Happy Birthday (Half of a poster board size):
Good Luck (Quarter of a poster board size):
Love you (Quarter of a poster board size):
Father's Day (Full poster board size, by my daughter):