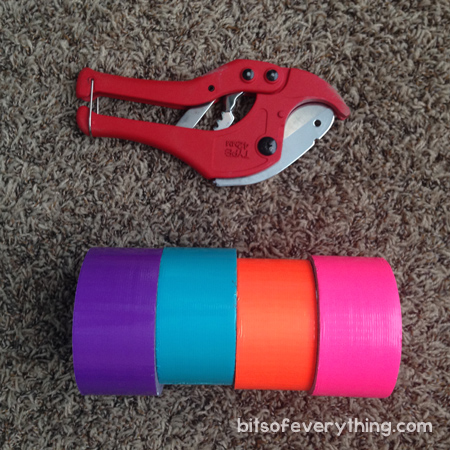 Now we are ready to cut some pipe.  Cutting pipe with a pipe cutter makes it very easy.  The pipe cutter is very much worth its cost!  We chose 6 different lengths to cut pipe:  4 inches, 6 inches, 9 inches, 12 inches, 24 inches, and 36 inches.  If you get the PVC that is 10 feet long, you should be able to get all these fort pieces with 10 pieces of pipe.  We also got a variety of connector pieces.  Once the pieces are cut, assign a color to each length.  Color coding the length like this makes it so much easier when you need the same size pipe – just get the same color!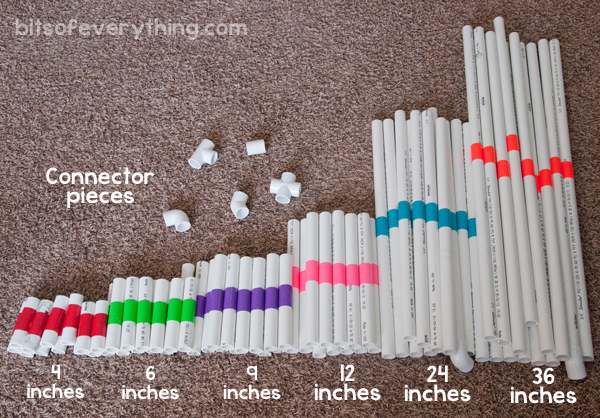 Fort Kit Contents:
12 – 4 inch pieces
12 – 6 inch pieces
12 – 9 inch pieces
12 – 12 inch pieces
12 – 24 inch pieces
12 – 36 inch pieces
connector pieces (lots!)
clamps
drop cloths
Now you are ready to construct an awesome fort!  We have made forts in the family room and in the basement, but today we wanted to do something even more fun, so we made our fort on our deck!  This entertained my kids for hours!  Building this kind of fort requires some thinking and planning.  We've made smaller forts before, but this is what we ended up with today.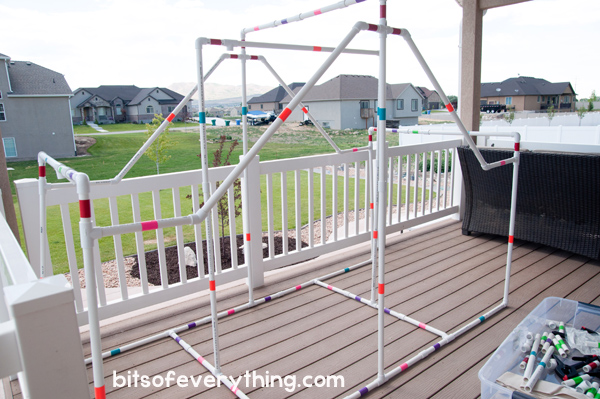 Now just cover it with your blankets or drop cloths and camp them on so they don't keep falling off!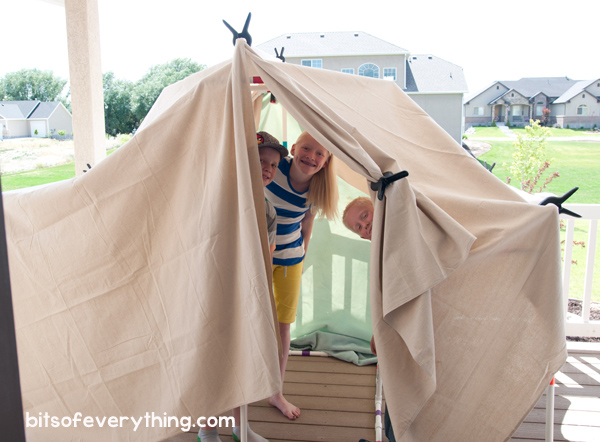 This would be a great place to read, eat, play, rest, or even sleep!  Perfect thing to do on a summer afternoon.
*Update*  I've had a few questions about the container that stores all the pieces.  I bought mine at Target.  Like this one.  It is made by Sterilite and is called an Underbed box and is 74 Qt.  Hope this helps!
*Approximate Cost*  
PVC pipe – $20
Connectors – $10
Drop cloth – $10 each
Clamps – $10
Duct Tape (optional) – $3 per color
Storage case – $15
Here are a few more fun summer ideas for you:  Backyard Campout, Summer Reading Ideas, and Family Reunion Tips.