We have a new family hobby at our house.  We (all 5 of us!) have all learned how to index.  Indexing is the process of entering information from historical records into an online, searchable database.  We need everyone's help for indexing and this weekend is the perfect time to start!  July 15-17 is the Worldwide Indexing Event for 2016.  Get started here!

My kids (15, 13, and 9) have all gotten really good at it.  Indexing is probably not the funnest thing my kids have ever done, so we created an indexing challenge to help make it more fun for them.
Our family issued a month long challenge to another family in our neighborhood.  Our family worked together as a team to see how many records we could index that month.  Here is our Indexing Challenge Invitation: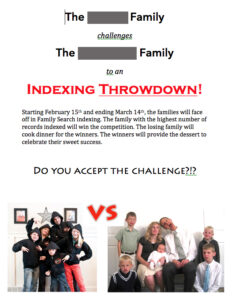 To start, everyone needs to take a screen shot of their total records indexed.  You can find this in the bottom left hand corner after you sign in to the indexing program.  It looks like this: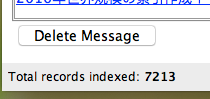 At the end of the challenge, take another screen shot of the same thing and calculate what your increase was for the month.  We added all of our numbers together to find the total amount of records that our family indexed within that one month.
We indexed over 8,000 records in one month as a family!  Our friends indexed over 11,000 records in one month!!  They beat us!  We cooked them dinner for their reward.
My kids loved challenging their friends and we had to take turns on the computer because we all wanted to be indexing!  Doing an indexing challenge was a huge success!  Really, just telling you about it makes me want to do it again!  We printed these cute tags and attached them to some index cards to give to our friends.  See free printable at the bottom of the post.

Here's a little more about the World Wide Indexing Event:
From July 15-17, FamilySearch International will sponsor the third annual "Worldwide Indexing Event," bringing 72,000 people from around the globe together online during a 72-hour event to save the world's records by making them searchable to the public. 
During the 72-hour indexing period, volunteers participate by downloading the FamilySearch software and completing as many names as they would like.  Anyone with a computer and internet connection can join.  
Volunteers have made over one billion historic records searchable online since FamilySearch introduced online indexing in 2008. The demand for indexed records continues to grow as millions of historical records worldwide are added every year.
To join 72,000 teammates in saving the World's records, visit https://familysearch.org/worldsrecords.
FamilySearch International is the largest genealogy organization in the world. It is a nonprofit, volunteer-driven organization sponsored by The Church of Jesus Christ of Latter-day Saints. FamilySearch and its predecessors have been actively gathering, preserving, and sharing genealogical records worldwide for over 100 years. Patrons may access FamilySearch services and resources free online at FamilySearch.org or through over 4,921 family history centers in 129 countries.