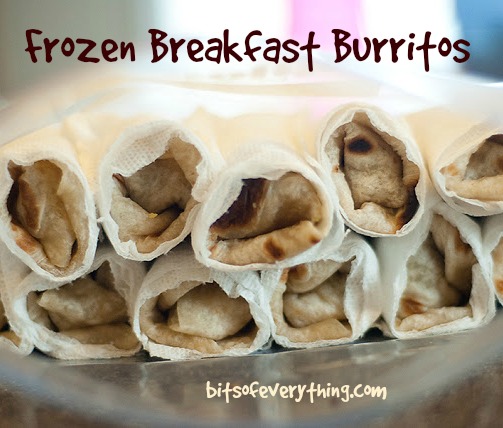 Ever since Emily told me about these breakfast burritos, I've been dying to make some.  It's my day to post, but it's Emily's idea.. so I'm gonna let her do the talking.  Take it away, Em!
***
I got this lovely idea from my friend Gena!  She told me that she always keeps these
(and French Toast!! I'll post about that soon–so stay tuned! 🙂
in her freezer for her family.  It's a nice way to have a
warm breakfast
without taking all the
time!
I even saw her taking these to a neighbor who just had a new baby!  
Such a great idea! People usually offer dinner, but what about BREAKFAST??  I Loved the idea! 
First, I brown up 3 lbs of sausage, drain it, and set it aside in a big bowl.
(When I make these, I want it to last a while, so I cook A LOT!)
Then I sauteed green peppers and onions.
The recipe calls for 1 green pepper and 1/2 of an onion, but I didn't do that much.  Just do it to your liking.)
Next, I scrambled 2 dozen eggs and added them to the green peppers and onions.
When that is finished add it to the big bowl of sausage.
Then cook about 6 cups of hashbrowns.  I've used dehydrated and frozen.  Both work fine.
Add that to the big bowl of sausage and eggs and stir it all together.
Let that all cool while you get your tortillas ready.
If you choose to use regular
(already cooked)
tortillas for this recipe, you'll just want to heat a few at a time
to make them a little easier to roll.  I like to use the fresh uncooked tortillas from Costco.
All you have to do is cook them on both sides in a skillet.  It says on the bag they cook in 60 seconds!
The
trickiest
part though…..are you ready for this……is the
rolling
! Ha!
It takes some practice, but it's easy to master. Here are some pictures to show you how I do it!
Oh yeah….and don't for get the cheese!
1.  lay your tortilla flat.
2.  spoon out some of your yummy egg mixture and then top with cheese.
3.  fold the edge over.
4. tuck in the edges.
5.  continue rolling.
This is how it should look.  Then, to keep them from sticking to each other,
you roll them in a single paper towel.
(or if you have bigger paper towels, just cut them in half.)
Finally, place them in freezer ziplock bags and place them in the freezer!
(I think I usually put about 12 burritos per gallon size baggie.)
To cook:  Heat in microwave for 1 minute, flip it over and do another 30 seconds.