Summer is the perfect time to sew!  Sewing things for your kids and family or WITH your kids can always fun.  I'm so excited to be included in the Summer Sewing Series with Polka Dot Chair.  There are some great ideas this year!  Today I'm showing how I made my new Pool Bag.  I just got it made and I can't wait to take it to the pool to try it out.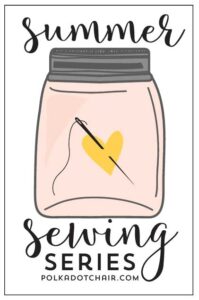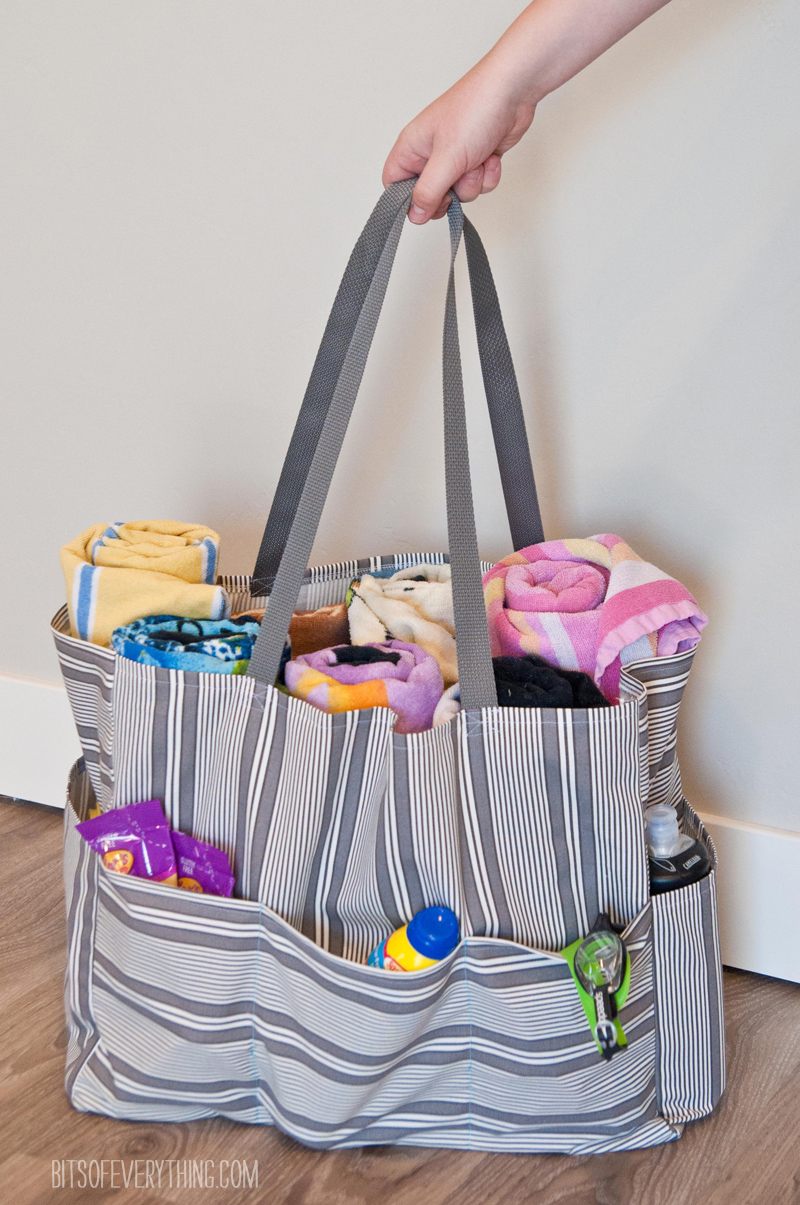 Let's get started!  Here's what you need.
Fabric – 1 yard of thick fabric that is 60 inches wide.  I bought this cute striped fabric at Ikea for under $8 a yard!
Thread
Straps (optional) I used 60 inches (30 for each strap) but you can make them longer or shorter.  You could also use leftover fabric.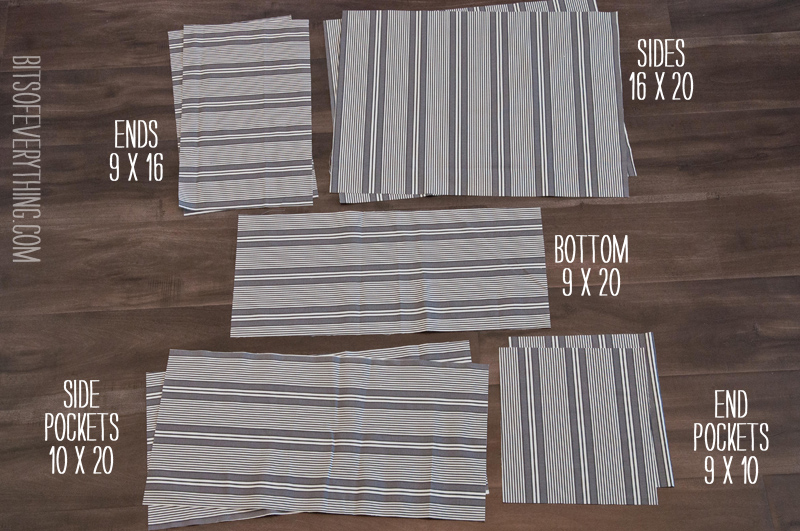 Cutting – Cut 2 sides, 2 ends, 1 bottom, 2 side pockets, and 2 end pockets.  See measurements above.  I have coordinated which way my stripes go, so pay attention to that if you are working with stripes.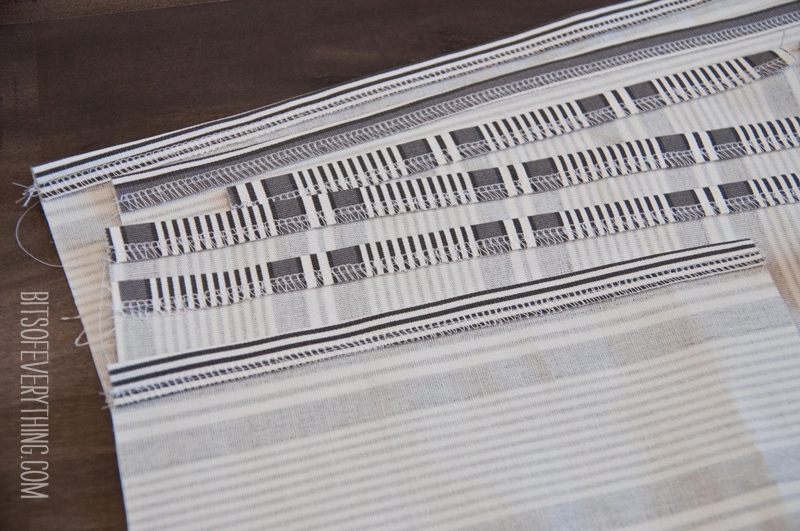 Hem the top edge of all the pieces EXCEPT the bottom piece.  My favorite way to hem is to serge the edge and fold it over once.  I folded it over 1/2 inch and then sewed it down.  If you don't have a serger, you can alway zigzag the edge OR roll your edge under (fold over 1/4 inch and then fold over another 1/4 inch.)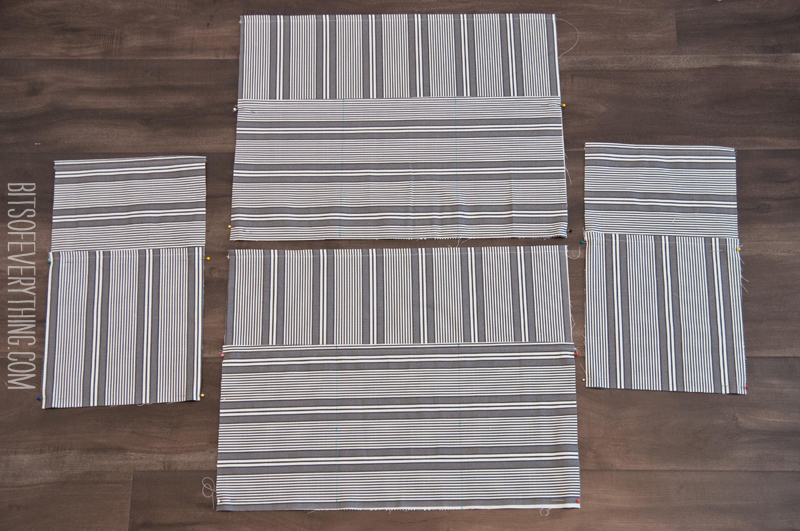 Pin your pocket pieces onto all the bag pieces (except the bottom piece).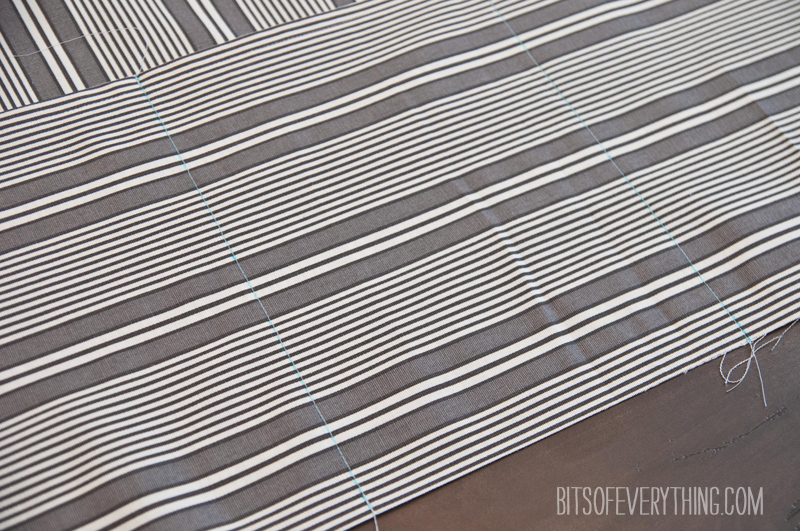 Mark and Sew where you want your pockets to be on the side pieces.  I chose to have 3 pocket sections on my long sides of the bag.  I marked my pocket lines 6.5 inches in from the edges.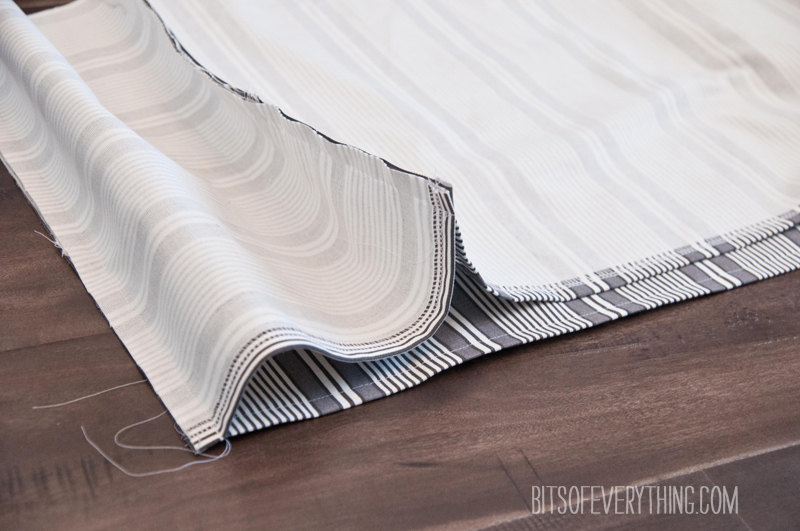 Sew your bag sections together with right sides together.  Sew in this order:  End, Side, End, Side, and then hook your first end piece to your last side piece.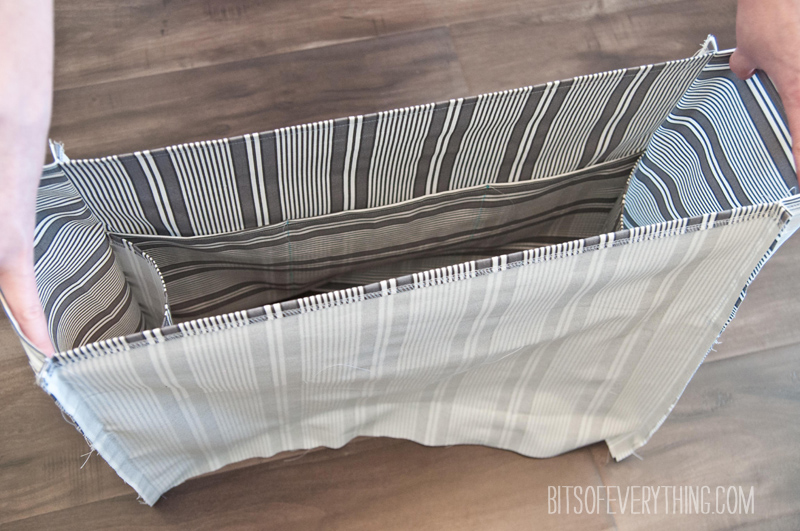 Your bag is coming together!  This is how it should look now!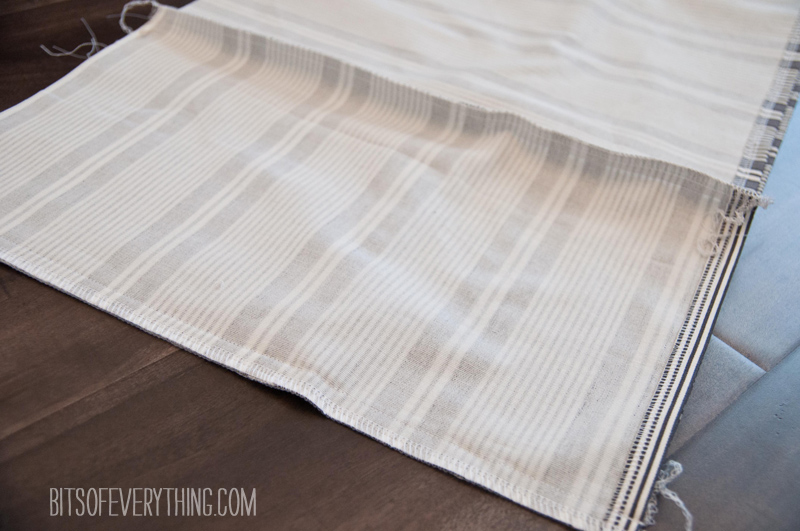 Serge or zigzag your inside seams to help prevent fraying.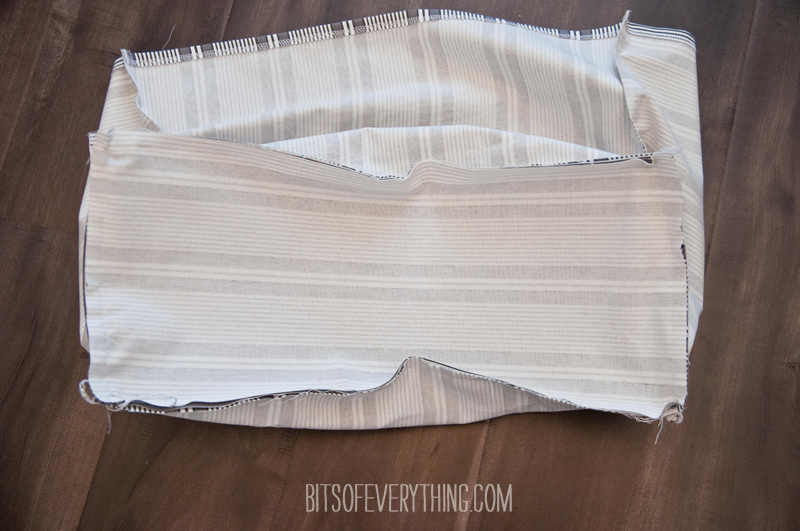 Pin and Sew your bottom piece into place.  This is the trickiest part.  I like to sink my needle and pivot each time I hit a corner seam.  My seam along the bottom looks like a big rectangle.  I also serged the edge of this bottom seam to finish it off.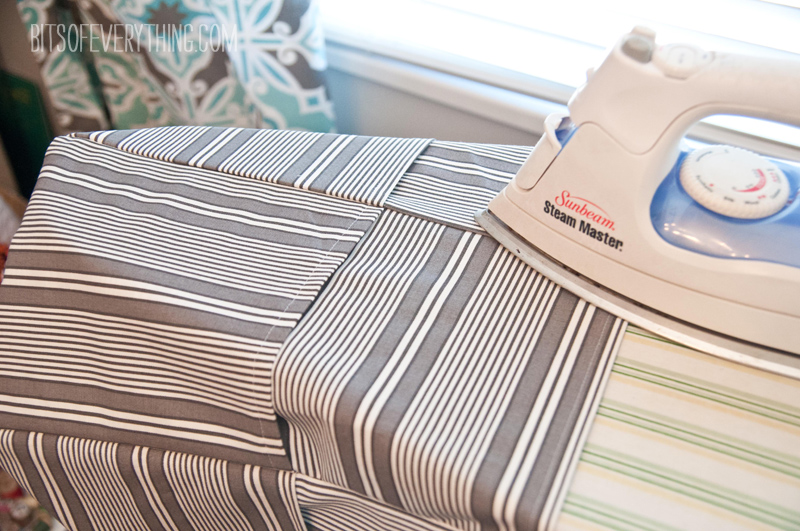 Turn and Press – Turn your bag right side out and press your corner seams to one side.  You are almost done!
Handles – Using the handle material, cut each handle to be 30 inches long (or your prefered length).  Pin into place.  I measure in 4 inches from the corner seam.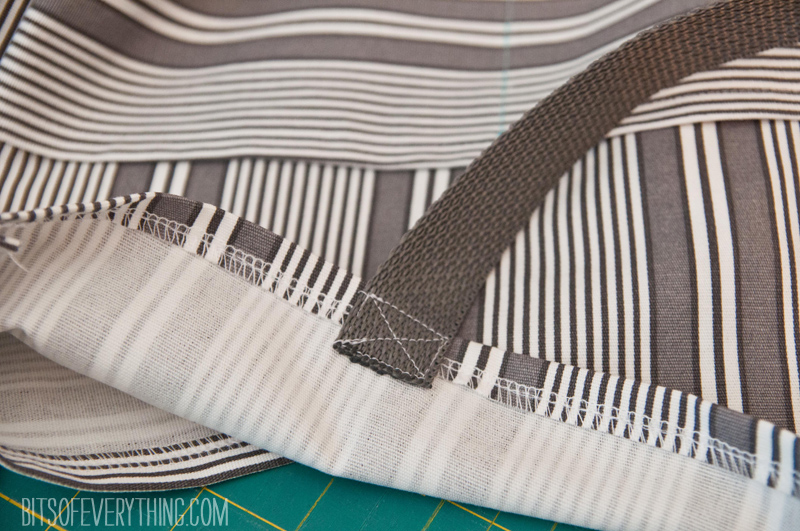 Reinforce seam so that your handles are nice and strong!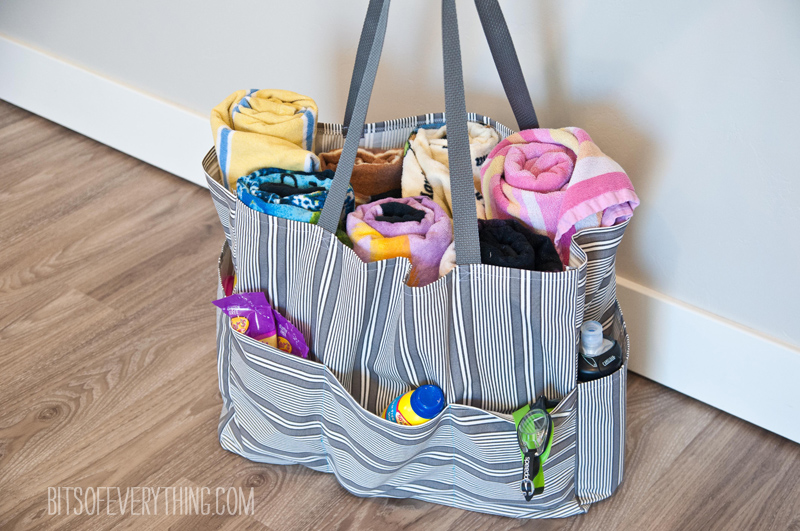 Load up your bag!  I love all the pockets around the sides.  I use them for water bottles, sunscreen, goggles, snacks, pool toys, my phone, and wallet.  Nothing gets lost at the bottom of the bag anymore!  I hope you love your bag as much as I do.