We have had a huge harvest with our garden this year, did you? We have a garden that is about 30 ft by 60 ft, plus an orchard with 9 fruit trees and raspberries and strawberries. I love it all, but it is a lot of work too. My very favorite thing we harvested this year is peaches! 4 of my 9 fruit trees are peaches, all different kinds. One tree gave us over 200 peaches!! Yay! I have bottled peaches, made peach fruit leather, peach pie, peach dessert, and peach jam, and still had some to share with my family and friends! This year I tried one new peach recipe — Peach Syrup.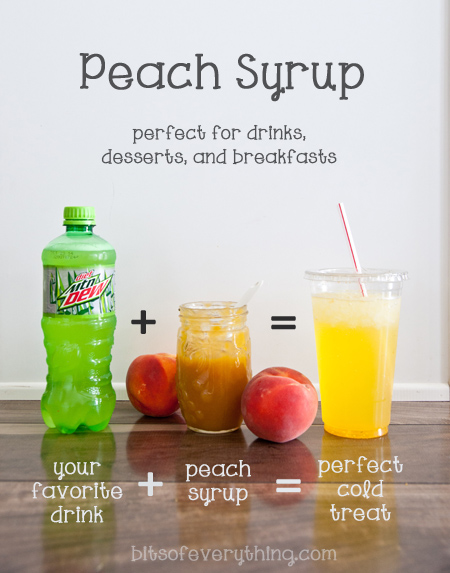 I'm not a big soda drinker, but anything peach flavored is so yummy to me! Mix 16 oz. of your favorite drink with 2 Tbsp of syrup. Add ice and a straw and you are ready to enjoy!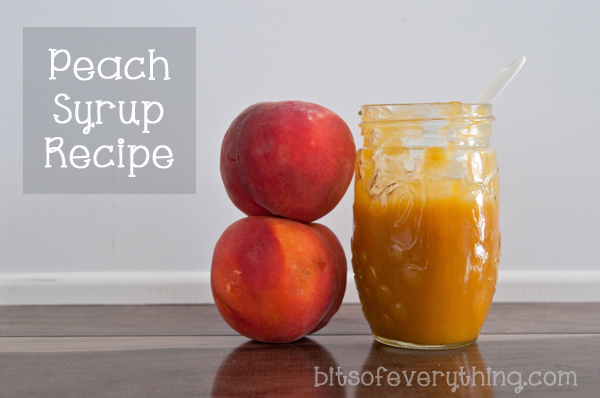 Peach Syrup
1 cup sugar (or other sweetener like honey)
1 cup water
1 1/2 cup diced fruit
Put all ingredients in a blender, blend until smooth. Taste your mixture and make sure it is the right sweetness level for your liking.  Adjust if needed. Pour mixture into a saucepan and boil for 20 minutes or until thick. Refrigerate.
Ways to use peach syrup:
Flavored Drinks: soda, lemonade, or tea.
For Breakfast:  on waffles, pancakes, french toast or crepes.
For Dessert: on ice cream, cheesecake, or in a shake.
I haven't tried this recipe with any other fruit, but I'm sure it would work the same. It's on my to do list. I made a small batch of syrup this time to try it out, but next time I will be making a big batch and bottling it. See tips for a big batch on Tried and Tasty.
Other posts your might enjoy:  5 Fruit Smoothie Recipes, Fruit Pizza, and Blueberry Peach Crisp.