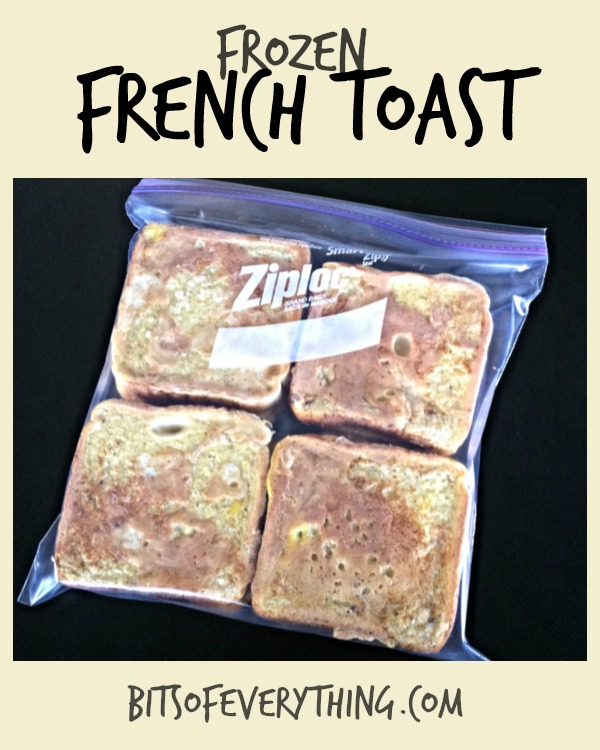 For those of you who liked our
Breakfast Burritos
post, you'll LOVE this one!  It is even EASIER!!  I just whip up some french toast and flash freeze them.  When that's done, I toss 12 into 1 gallon size baggie and toss them into the freezer!  Then when my kids are in a hurry, but need a good breakfast, I pull one (or two 🙂 of these out and pop it into the toaster!  Perfection!
In case anyone wants more information, here are the particulars:
(Remember that I like to make A LOT!)
I use:
4 loaves of Texas toast
2 1/2 -3 dozen eggs
milk (just a little!)
vanilla
(a lot of) cinnamon
*I do usually mix up only about 1 dozen eggs at a time.*
This recipe will make about 5 dozen!
 Whip the ingredients together and dip bread on both sides.
Then put them on a griddle heated to about 350 degrees.
Next, flip them over and cook the other side!
You can either eat them hot and fresh or put them on a cookie sheet to flash freeze.
 I like to grease the pan in between each batch, so my butter usually ends up looking like this.
 To flash freeze, you simply lay them in a single layer on a cookie sheet and place them into the freezer.
You wait until they cool (probably 30 min-1 hour) and are firm.
Then take them out and place them in baggies.
Flash freezing keeps them from sticking to each other.
ENJOY!!
*****
We sent out all the invites to Pinterest to those wanted them from yesterday,
if you still want and invite- leave your e-mail address!
It has lots of great advice on how to get started- so check it out!