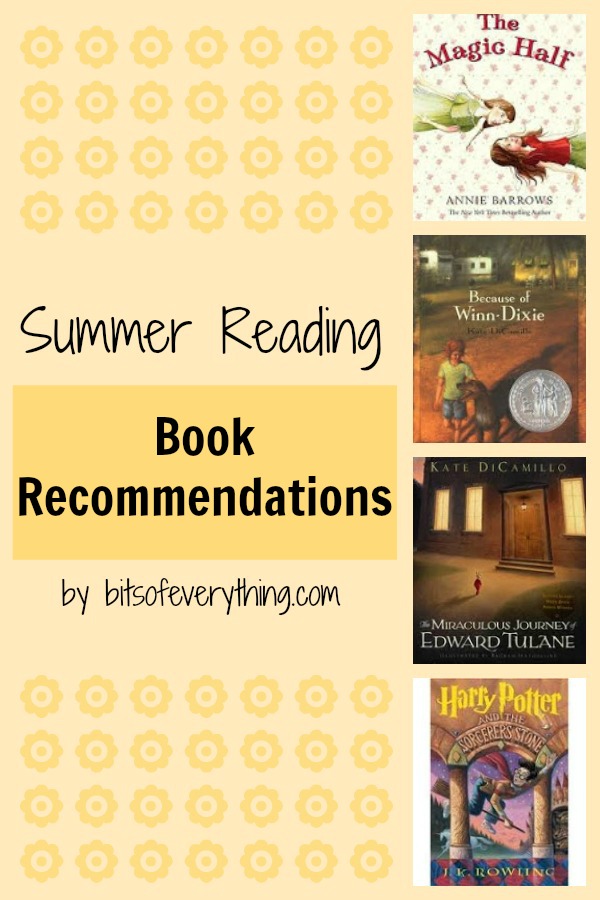 I told you about our plans for our summer reading a while ago.  We have done very good at summer reading this year.  (Practicing the piano, not so much.)  We have loved reading books together.  It's my favorite time of day.  Here are a few that we have enjoyed and recommend to you.
We have read both Because of Winn-Dixie and The Miraculous Journey of Edward Tulane  by Kate DiCamillo.  My kids enjoyed them both.  Because of Winn-Dixie was fun to see how certain things can happen, all because of a dog.  The Miraculous Journey of Edward Tulane reminded us of Toy Story.  It is the story of a rabbit and how he goes from owner to owner.
The Magic Half by Annie Barrows is another one that we read together.  This is written by the same author that writes Ivy & Bean.  Kaylee (10 years old) has enjoyed several of the Ivy & Bean books, so we knew we would like The Magic Half too.  I think Kyler (8 years old) was nervous that it was a girl book, but once we got into it, I think he enjoyed it as much as Kaylee did.  This is story of a girl that has twin older brothers and twin younger sisters, with her in the middle.  She finds a new friend to be her "twin."
And finally, we are starting the Harry Potter series.  I know we are a little behind the crowd on this one.  We are not quite done with book 1 yet, but the kids are enjoying it more than I thought they would.  Kaylee asks me to keep reading because she wants to know what is going to happen next.  We haven't seen any of the movies either, so we are looking forward to a movie night once we get done with the book.
These are all books that I have read aloud to my kids.  My two older ones could definitely read these on their own, but I know that there are benefits to reading aloud to my kids, even when they are older.  Here are a few articles that tell us more about the benefits.
Steady Mom
Little Ones Reading Resourse
Six Wise
United Through Reading
Do you have any books you would recommend to us?