I have spent so much money on air mattresses over the years.  It seems that I have to replace mine every year!  Not this year.  This year I'm trying something new – A foam pad with a foam pad cover.  Emily and Cali have both made these foam pads (and blogged about them too), and now it's my turn.  I was surprised how easy they really were.  6 steps is all it takes: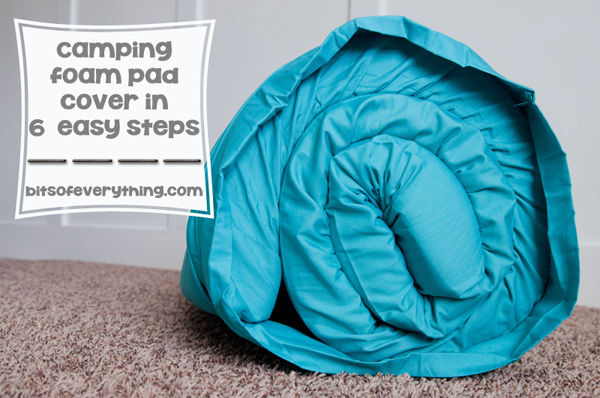 1.  Purchase.   A foam pad, twin sheet, and a king sized pillow case.  Foam Pad:  I bought mine at The Home Depot for $20.  It measures 72X30 and is 3 inches thick.  Sheets and Pillowcases:  I bought mine at Wal-Mart.  They were $5 each.  Sheet – twin sized.  Pillowcases – king sized.
2.  Sew.  Fold your sheet in half length wise (now it is long and skinny) with right sides together.  Sew along 2 sides of the sheet, 1 short side and 1 long side.  1 side is the folded side and you want to leave one side open.  Once 2 sides are sewn, turn your case right side out.

3.  Put on.  Put cover onto foam pad.  It's a tight fit to get the foam pad into the case, but you want it snug.  It can be a little tricky and take a little time, but I got it on.
4.  Fold in.  Once your foam pad is all the way into the case, you will have some sheet left over at the end.  I didn't want to sew it up (so that I can take it off and wash it later) so I just folded both ends into one side of the pad cover.
5.  Roll up.  Just like a sleeping bag.

6.  Slide on.  Once it is rolled up, slide the pillowcase over the foam pad.  It should fit in the pillowcase without much problem.  This is so much easier than tying ropes and strings.  Slip it in and you are done!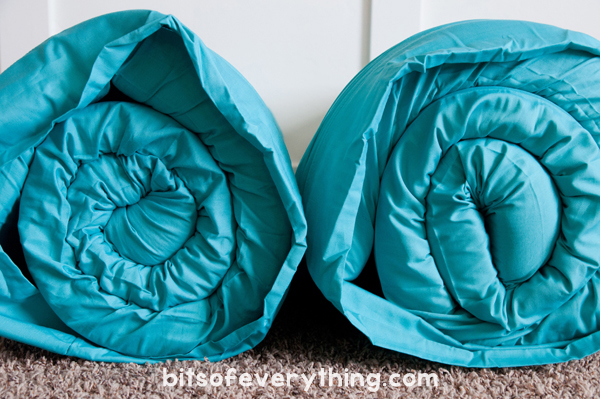 We are now ready to go camping without the hassle of the air mattress.  No air pump needed, no electricity needed, and you won't wake up on the the ground (because your air mattress has a hole!)