One day while flipping through cook books, I came across this idea:
Ingredients
1/4 cup

creamy peanut butter

20 vanilla wafers

10 Popsicle sticks

4 ounces

milk chocolate candy coating, chopped

1 teaspoon

shortening

M&M's miniature baking bits, optional
Directions
Spread peanut butter over the flat side of 10 vanilla wafers, about 1 teaspoon on each. Top each with a Popsicle stick and another vanilla wafer. Place on a waxed paper-lined baking sheet; freeze for 7 minutes.
In a microwave, melt candy coating and shortening; stir until smooth. Dip cookie pops into chocolate; allow excess to drip off. Return to baking sheet.
Decorate with baking bits if desired. Freeze for 5-6 minutes or until chocolate is set. Store in an airtight container at room temperature. Yield: 10 servings.
 ***
So, using this recipe as my guide, I made my own Cookie Pops for my friend's birthday.
I used Oreo cookies instead of making sandwich cookies like is says…
and I used skewer sticks instead of Popsicle sticks because I wanted them to be taller.
But please note: I learned that I should have used regular Oreos and Popsicle sticks OR
Double-Stuffed-Oreos and skewer sticks.
(the regular Oreos are not thick enough for the skewer sticks – the cookies kept braking on me!)
I went to the store to buy a small flower pot and some Styrofoam –
and found this cute tin to use instead.
("S" is the first letter of my friend's name.)
I used a little more chocolate than the recipe called for… so I was glad I had plenty…
Oh, and I wish I would have put all of the M&Ms face down… Oh well.
Anyway, here's how it turned out: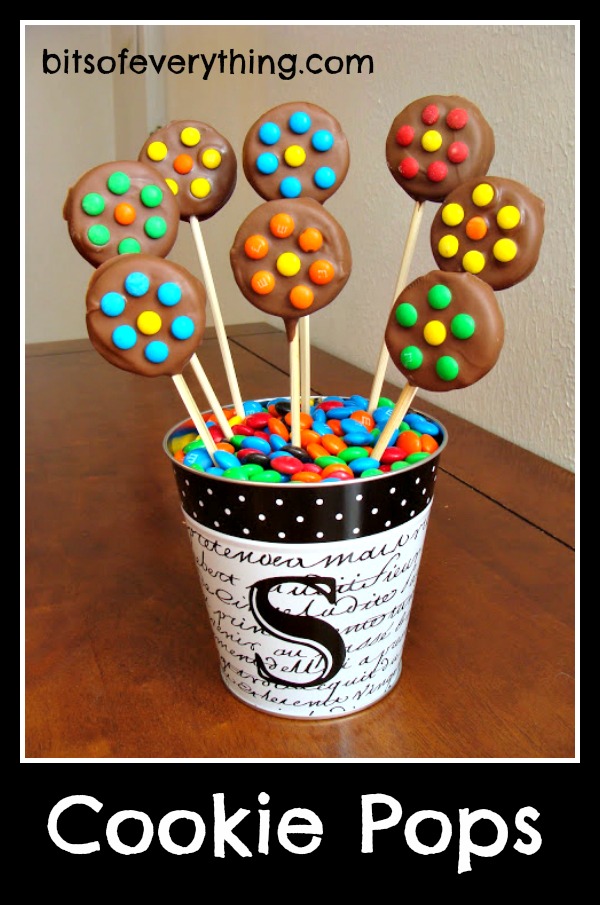 It was a fun way to say "Happy Birthday"!