Last week I taught a beginning quilting class to some of my neighbors.  It was so much fun!  The first thing that I wanted to share with them was my favorite quilting supplies.  Quilting can be so  much more enjoyable if you have a few tools to help.  Some of these tools I've had for a long time, and some I've gotten more recently.  It's fun to add tools to your stash as you go.  Please don't go buy all these things at once.  It would add up fast.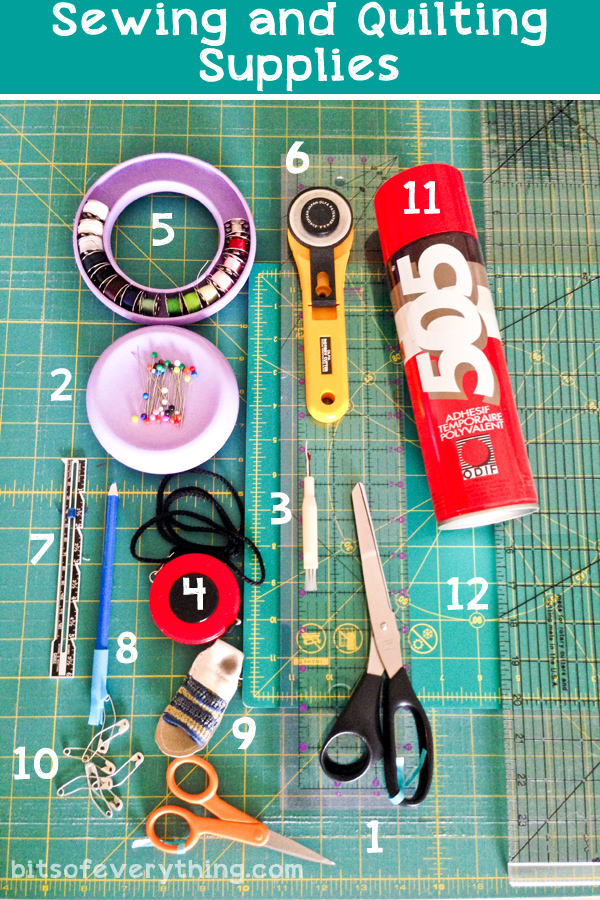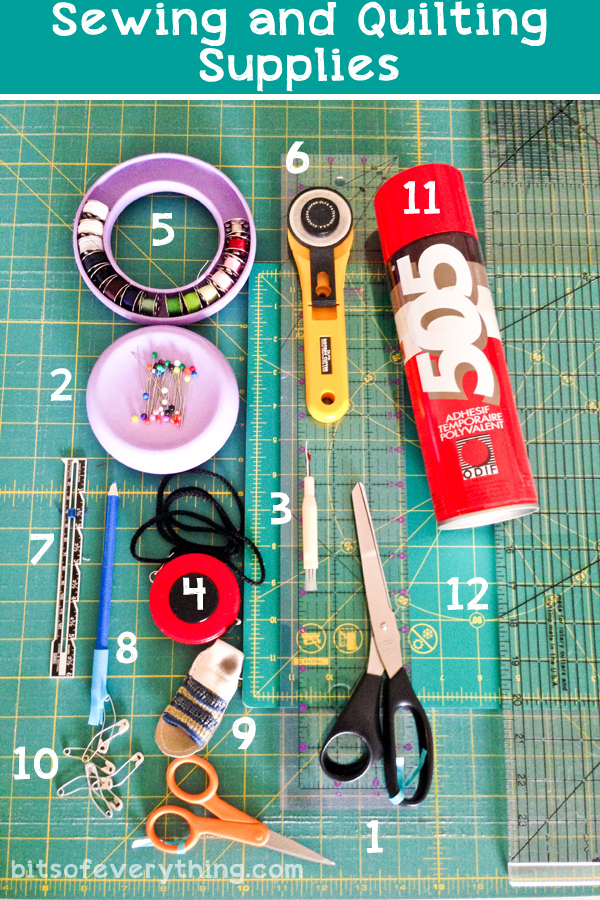 This is the order in which I would buy these tools, based on how much I use them.
1.  Sharp Scissors.  The black ones are Ginger and the orange ones are Fiskars.  I don't think the brand matters as much as the sharpness does.  Keep these scissors away from paper.  Paper dulls the blade way faster.  These are fabric only scissors!  If you scissors start to get dull, take them in to be sharpened.  You can usually get them sharpened for only a few dollars – way cheaper than buying a new pair.  Your local sewing or fabric centers usually offer this service.
2.  Pins.  Sharp pins with big heads are the best, but most of all, I love this magnetic pin cushion.
3.  Seam ripper.  I usually have 2 or 3 of these on hand.  You'd hate to not be able to find this when you need it!
4.  Retractable measuring tape.  With a touch of button, it rolls back up for you.  Such a time saver!
5.  Bobbins and bobbin holder.  Buy more bobbins!  (Be sure to get the right size for your machine.)  When I start a big project, I like to have 3 bobbins of that thread color ready to go.  Having to stop in the middle of a project to wind bobbin is so frustrating to me.  🙂  This simple bobbin holder is amazing.  Worth every dime.
6.  Rotary mat, ruler and blade.  I love this OLFA brand.  It is high quality and lasts a long time.  My ruler has a lip on it.  I love it and now have a hard time cutting with rulers that don't have a lip.  I've noticed that the rulers with a lip are a little harder to find now, but I think it would be worth your time to find one.  Be so careful with your blades!  They are super sharp!  I always like to have an extra blade on hand to be able to replace it when I need to.
7.  6 inch sewing gauge.  Very handy for a quick measure.  I use this the most when I am hemming something.
8.  Marking pencil.  Don't have a favorite, but you need something to make marks on  your fabric occasionally.
9.  Leather thimble.  Best invention ever.  I hate the normal old school thimbles, I never use them.  This leather thimble does the job perfectly and is so much easier to use.  I use this the most when I am binding a quilt, but I've also used it for hand quilting projects.  Love.
10.  Curved safety pins.  These are mostly used to hold your quilt or table runner together before it is quilted.   You will be surprised how much the curve in the pin makes them so much easier to use.
11.  Adhesive spray.  Along with the pins, this spray helps hold your layers together, nice and flat, before it is quilted.
12.  Rotating cutting mat.  This is my newest toy.  After you cut one edge of your fabric, your board can rotate for you to cut the other side.  This way you don't have to pick up your fabric and get it all lined up again before you can cut the next side.  So handy.
Most of these sewing and quilting supplies should be easily found in your local sewing stores like JoAnn's and Hobby Lobby.
Linking up with: