Not all group games are created equal.  Some of them are just not fun.  🙂    My husband and I were recently in charge of a party for a large group of people, about 40-50 people.  We wanted some fun games that would be easy.  Here are two of my favorite games we played.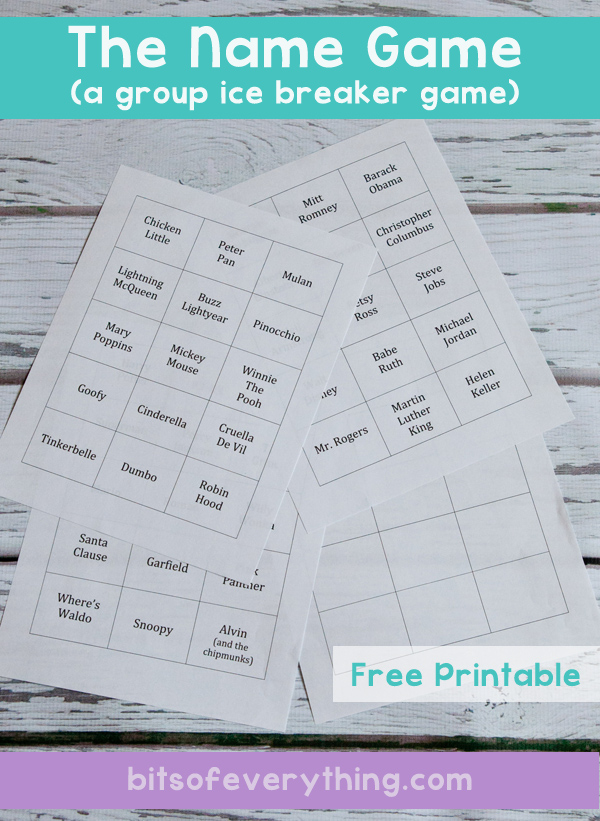 NAME GAME
(This is one of the best ice breaker games I've played.  You can start as soon as people walk in.  People can jump in as they arrive.  It gets people talking, and it forces them to mingle.  It can also be played by both adults and kids.  It's nice and easy!)
Supplies Needed:  Paper with names on them (use the printable below!), scissors, and tape.
Instructions:  As each person comes into the party, tape a name onto their backs.  They now have to figure out what that name is by asking yes and no questions.  To get them to mingle, you can only ask two questions to each person.
Keep playing until everyone guesses the name on their backs.  We like to have a variety of people on the papers.  Real, fictional, puppets, cartoons, famous, historical, etc…  In this printable, you will find one page of disney characters, one page of other characters kids like, and 3 pages of a variety of famous people.    There is also one page that is left blank so that you can come up with your own names.  Sometimes it is fun to put down a name of someone that is actually at the party.  🙂
Download – Name Game Printable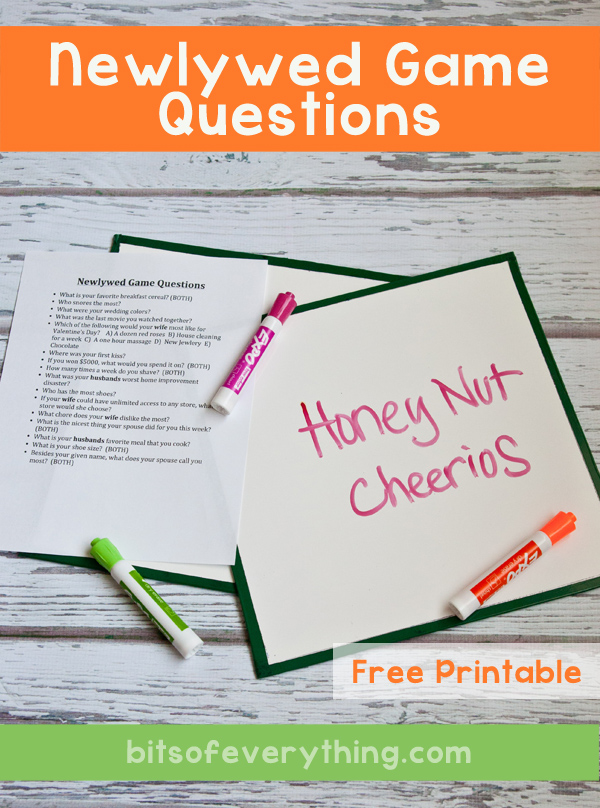 NEWLYWED GAME
There are so many different ways to play this game, but in order to save time we kept everyone in the room the whole time.
Supplies Needed:  White boards (with markers and an eraser paper towel) OR paper and pens, questions (use the printable below!)
Instuctions:  Line up two rows of chairs facing each other.  Women sit on one side facing the men on the other side, lining up spouses.  Everyone gets a white board to write their answers on.  Ask a question to everyone, everyone writes down an answer.  Take turns looking at the answers, one couple at a time.  Matching answers get a point.  Keep playing as long as you have time or questions.  Add up points at the end to make sure there isn't a tie.
We had so much fun hearing all the answers.  We laughed and laughed!  The questions that say BOTH by them, you can ask to either spouse.  When you ask the question, you need to be more specific.  For example – The first question is "What is your favorite breakfast cereal?"  When you actually ask the question, you need to ask, "What is your husbands favorite cereal?"  This way they are both trying to come up with the same answer.
Download – Newlywed Game Questions (Keeping it clean!)
Hope you enjoy playing these fun games!
All printables and downloads made by Bits of Everything are for PERSONAL USE ONLY.  Please do not alter or claim as your own. Feel free to link back to http://blog.bitsofeverything.com/ if you like our printables.  We would love a comment if you download. Thanks!