You have to try these Brownie Ice Cream Cupcakes some time!  Follow the simple instructions below and enjoy!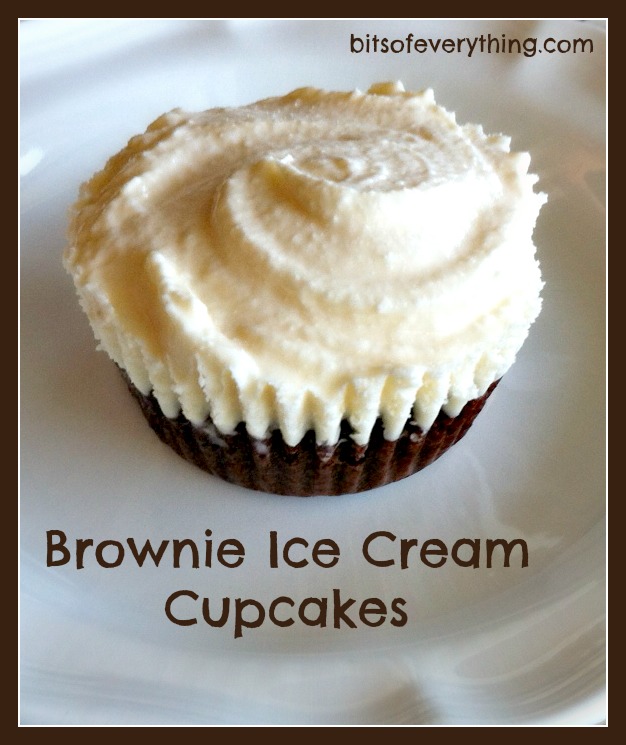 Place foil cupcake liners* into a cupcake pan.  Make a brownie mix following the instructions on the box.  Spoon 1 tablespoon batter into each liner in the cupcake tray.  One regular "family size" brownie mix will give you about 36 cupcakes.  Bake at 350 degrees for 12-15 minutes or until a toothpick comes out clean.  Let cool completely.  Get ice cream out of freezer and let soften.  Place soft ice cream in a bowl and stir until smooth.  Spoon ice cream into each cupcake.  Place in freezer until hard.  Take out of the freezer and enjoy!
*Side note: if you use paper cupcake liners, the brownie doesn't come out very good.  We found that if you place them in the microwave for about five seconds then they come out easier.  But the easiest way is just to use foil cupcake liners because they peal off without any trouble.
Our family loves vanilla ice cream with brownies, but you can try any flavor!  Try mint chip ice cream with brownie cupcakes and sprinkle Andes Mint Chips on top.  YUM!
This project was inspired by: Brownie Bottom Ice Cream Cake
You might also enjoy Ice Cream Pies