I recently joined a team of bloggers!  I contribute to the blog Or So She Says.  This is an amazing group of bloggers and I'm so lucky to be a part of the group.  Today we are all answering questions so you can get to know all of us better.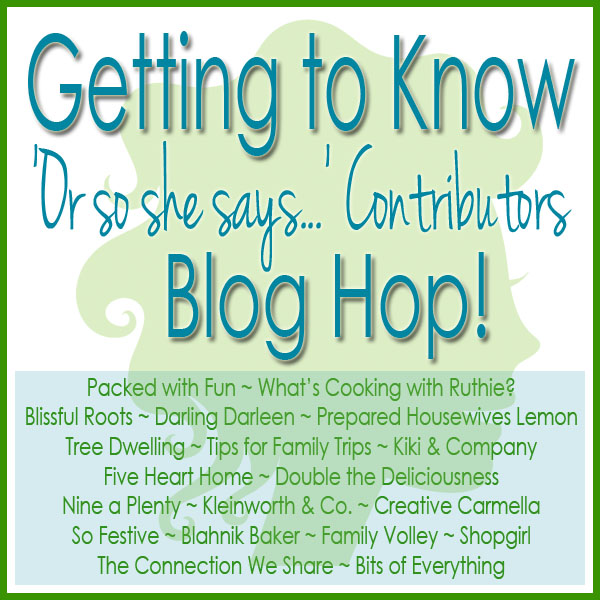 What inspired you to start your blog (or shop?)
I started blogging with my 4 sisters.  We originally just wanted to share our ideas with each other.  Now, lots of people enjoy our ideas.
What's your favorite and least favorite thing about blogging?
Favorite:  I love helping people.  When I see someone trying my ideas, it makes my day!  Least favorite:  Trying to figure out how to change my blog design and make it look the way I want it to look.
Tell me with only 20 words, 20 things you love.
1. Family  2. Friends  3.  Church  4.  Quilting  5.  Photography  6.  Chocolate  7.  Puzzles  8.  Reading  9.  Gardening  10.  Vacations  11.  Bread   12.  Music  13.  Take-out  14.  Movies  15.  Date Night  16.  Sunsets  17.  Campfire   18.  Games  19.  Budgeting  20.  Technology
What is the one recipe you are most often asked to share?  
Cinnamon Rolls, made by my husband!
5 favorite beauty products, right now… what are they?
Mary Kay cleanser and moisturizer
Kenra hairspray
Hard up Gel (for my boys)
Jergen's hand lotion
Mary Kay tanning lotion
What's your personal mantra(s)?  Something you tell yourself on a regular basis?
Just keep swimming.  🙂
What movie made you laugh more than any other?
Probably not the funniest, but one of my favorites is How to Lose a Guy in 10 days.
If you could recommend one family vacation, what would it be?
Hiking in southern Utah.  Beautiful!
What goals are you currently working on?
Drop a few pounds, save money for finishing the basement, and read everyday.
Please share links to 3 blog posts (or items from your shop) that are special to you (or favorites of yours).
Go check out some of these amazing bloggers!  They have fantastic blogs that will keep you pinning all day.
Participating Blogs:
Cooking with Ruthie
Blissful Roots
Lemon Tree Dwelling
Tips for Family Trips
Five Heart Home
Double the Deliciousness
Nine a Plenty
Creative Carmella
So Festive!
Family Volley
Bits of Everything
Kiki & Company
Additional Contributors (not in blog hop):
Packed with Fun
Darling Darleen
Prepared Housewives
Kleinworth & Co.
Blahnik Baker
Shopgirl
The Connection We Share